The Image Masters Camera Art
Affordable Advertising Photography
Portfolio
Present Exhibition - Food Products Presentation
For graphic solutions designed for your specific needs,
please contact us at:

THE BASIC BURGER
At first glance this would appear to be a simple composition but closer examination reveals subtle enhancements to draw the eye to the featured burger. Notice how our staff has carefully chosen and placed the proper vegetables, such as the subtle color of the Yukon Gold potatoes; plate and background to accent the food item of interest.

ANOTHER VIEW
From this perspective, one gets another view of this tempting product. As in the first photo, the focus has been adjusted to emphasize the meat product. Here too, the lighting has been carefully adjusted to prevent an artifical or "staged" appearance but not to hide any of the subjects components in shadow.
BURGER "IN THE RAW"
In this photo, subject components were carefully arranged and lighting positioned and adjusted to emphasize the natural color and low fat content of the product. As one can see, the eye is drawn to the product and one is struck by the product's natural quality.
AN EYE OF ROUND AND THE IMAGINATION
It's always best to start with a fine product. As one sees , the small amount of fat in this cut is the selling point. It only remains for the photographer to demonstrate it with proper lighting and placement. The thoughtful use of other vegetables allows the mind to wander to many delicious serving possibilities.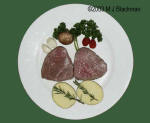 ATTENTION GETTER
In this more traditional composition, the natural qualities of the product are again emphasized. However here, choice of supporting vegetables and backgrounds serves to frame the product, not compliment it. Once again, the lighting must appear natural yet allow the important aspects of the product to be subtly suggested to the viewer.

LOOKS GOOD ENOUGH TO EAT
This traditional serving suggestion requires significantly more effort than one might first expect. The placement of the components is important for the proper visual impact. The color of the vegetables must be carefully preserved by proper preparation. The texture, color and natural goodness of the product must be prominent and the photo must be carefully processed to emphasize its qualities.
This exhibition began on August 19, 2015 and will continue for approximately six months.
Click on image for enlarged view
Use your browser's Back button to return to this page
Effective advertising imagery has long been recognized by successful businesses as an important marketing tool. As our gallery shows, there are many more factors needed for "good copy" than can be obtained with a simple camera, random setup, and an inexperienced eye. Unfortunately, present costs have made this effective means of communication unaffordable to most small businesses, until now. With years of experience in more cost effective retail photography, The Image Masters Camera Art applies cost-effective techniques to provide quality advertising graphics at a fraction of the cost of traditional commercial photographers. Our exhibit this month contains images prepared for a small producer of high quality beef products. We were able to provide innovative and affordable high quality images that favorably show their product at a cost within a small business's budget. Some reviewers have said, "they make you want to eat the photo," and that's the idea. Let us put our artistic and technical abilities to work for you. If you have a product or service whose marketing could be enhanced by professional graphics but have found the cost prohibitive, please consider our programs. You may call at:
312 505-0522
or contact us at: